Last week, conflicting reports regarding the state of Major League Baseball's ongoing effort to contract and realign the minor leagues surfaced. While Baseball America's J.J. Cooper and the Associated Press both reported that MLB is nearing an agreement with Minor League Baseball that would result in the loss of 42 affiliated teams, MiLB countered with a statement disputing the accuracy of the reports. Regardless of exactly where things stand in the negotiations, particularly with the COVID-19 pandemic endangering the entirety of the 2020 minor league season, some thinning of the herd appears likely.
While I've lived in New York City for 25 years and attended hundreds of Yankees games and dozens of Mets games in both recreational and professional capacities, I grew up on minor league baseball, primarily in Salt Lake City, where I lived from 1973-88 (and where my parents still reside), and Walla Walla, Washington, where my paternal grandparents lived and where I visited for several summers in the late 1970s and early '80s. Thus I'm all too familiar with the pain that comes from a city losing its minor league affiliate — and two of the 42 teams reportedly on the chopping block hit close to home, both my current one and the one of my youth.
When I began attending games circa 1977-78, the Salt Lake Gulls were the Triple-A affiliate of the California Angels, and part of the storied, high-scoring Pacific Coast League. They featured future big leaguers like Willie Aikens, Rance Mulliniks, and Dickie Thon, all of whom Angels general manager Buzzie Bavasi made sure to trade away for aging veterans (not without some success), a pattern that continued through the remainder of the two teams' relationship. While I had no affinity for the big club, I enjoyed following the careers of the aforementioned players and their successors, like Tom Brunansky and Brian Harper, as they fanned out across the majors.
My father would take my brother and me to a few Gulls games each year — often against the Albuquerque Dukes, the Dodgers' Triple-A team and therefore of considerable interest in our household — and highlights from those games still stick out, particularly from 1979, the year they won the PCL championship. In one game we attended, Ike Hampton, a catcher-turned-designated hitter who clubbed 30 home runs for the Gulls that year, bookended a 17-inning epic with a pair of homers, though I was safely tucked in bed by the time the latter landed. In another game, Floyd Rayford, a third baseman whom Earl Weaver later used as a backup catcher, mashed a dramatic eighth-inning three-run homer that turned a 4-2 deficit into a 5-4 lead, creating pandemonium; we could have turned cartwheels all the way home. Once my fascination with baseball statistics had begun, I'd pore over the Gulls' daily box scores and update a hand-kept stat sheet, annexing my mother's pocket calculator to figure out batting averages and ERAs. A few years later, I'd even apply rudimentary Bill James formulas to calculate runs created, though this involved some guesstimation when it came to counting walks via a standard four-numbered box score (AB R H BI).
After the 1981 season, the Gulls switched affiliations, becoming the Triple-A club of the Seattle Mariners, who to that point were just a crummy expansion team that had never even broken .500. The 1982 and '83 Gulls featured a pair of first overall draft picks, namely 1979 choice Al Chambers, whose major league career lasted all of 57 games, and 1981 choice Mike Moore, who did grind out 14 years in the bigs. Other players of interest included future All-Star Phil Bradley, future broadcasters Rod Allen and Harold Reynolds, big league mainstays like Darnell Coles and Ken Phelps, plus Ed Nunez, who at 18 years and 315 days is still the youngest pitcher to debut in the majors since 1980. In 1982, the Mariners came to town for an exhibition, allowing me to get autographs of actual major leaguers like Bruce Bochte, Bill Caudill, Julio Cruz, and Richie Zisk, not to mention coach Vada Pinson, the last of whom very much impressed my dad. "He could play ball, and he looks like he still can," he said of the 44-year-old Pinson. Alas, Gaylord Perry and his autograph eluded me.
After the 1984 season, unfortunately, the franchise was sold and moved to Calgary. No Triple-A replacement was forthcoming, but an independent Pioneer League team, the Salt Lake Trappers — actually the league's Calgary franchise, relocated — showed up in 1985. They featured players who had gone undrafted, but were a bit older and thus at an advantage in a rookie league. The Trappers won division titles in their first three seasons, but without the major league link — I looked it up, and one player from those three years even made it to the show (Pat Rice, for seven games in 1991) — it wasn't really the same. The team was one of many minor league clubs owned in part by actor Bill Murray, who occasionally flew into town and could be spotted coaching third base for a few innings, which added a bit of novelty. In 1987, they did set a professional baseball record with 29 straight wins; I was there for the record-tying win, but I missed Murray by a night.
The Trappers' lack of affiliation stood in stark contrast to the Walla Walla Padres, whom we saw during our annual visits to my grandparents. I missed Ozzie Smith, who had played there in 1977, but saw Tony Gwynn begin his pro career there in '81, on the same team as John Kruk. Bob Geren (who autographed the first foul ball I ever retrieved), Jimmy Jones, Kevin Towers, and Mitch Williams were other players whose progress to the majors I tracked. When the Padres departed for Everett, Washington following the 1982 season, however, my chance to take in games with my Brooklyn-born grandfather, who had regaled me with tales of seeing Ruth and Gehrig, and by that point was in his mid-70s, was gone.
That Trappers franchise stuck around Salt Lake until 1992, by which time I was graduating college 2,000 miles away. With the PCL eying a return to the city in 1994, the Pioneer League franchise moved about 40 miles north to Ogden, Utah, a city with a population of 87,000, and one where the local Mormon population historically clashed with the rowdier element that arrived via railroad to mine silver and copper. It's a city with a rich baseball history of its own — albeit at a lower level than Salt Lake, which came and went from various incarnations of the PCL throughout the 20th century — though not always a flattering one. When Frank Robinson began his professional career in Ogden in 1953, no restaurant or movie theater allowed black patrons. "[T]hough I didn't know it, at that time the Mormon religion insisted that Negroes were inferior beings," Robinson recalled in Extra Innings, his 1988 autobiography.
In 1966, after 10 years without baseball, Ogden got another shot when the Dodgers moved their Pioneer League franchise from Pocatello, Idaho. At the helm was 38-year-old Tommy Lasorda, who proceeded to pilot the team to three straight league titles, the last of which featured an incredible bounty of future major league talent in Bill Buckner, Steve Garvey, Tom Paciorek, and Bobby Valentine (the league MVP and the team's top prospect). The Dodgers stuck around until 1973, and after a one-year stab at a co-op team with players from six organizations, baseball departed again. It returned in 1979 and '80, in the form of the PCL's Ogden A's, who in their first year featured Rickey Henderson as well as (inevitable big step down) Steve McCatty, Mike Morgan, and two-time first overall pick Danny Goodwin; the next year, they had Shooty Babitt, now a well-known scout, and a late-career Glenn Burke, inventor of the high-five.
The Ogden Raptors have been part of the Pioneer League since 1994. In 1996, after 11 seasons of riding the indie rails, they became a Brewers affiliate, and a year later, Lindquist Field opened. Like Smith's Ballpark in Salt Lake and UCCU Ballpark in Orem (home of the Pioneer League's Owlz), Lindquist, which now seats 8,262, opens up to face an impressive vista of the nearby Wasatch Mountains. The team has annually led the Pioneer League in attendance ever since it opened, and the park has helped to revitalize a once-dormant downtown.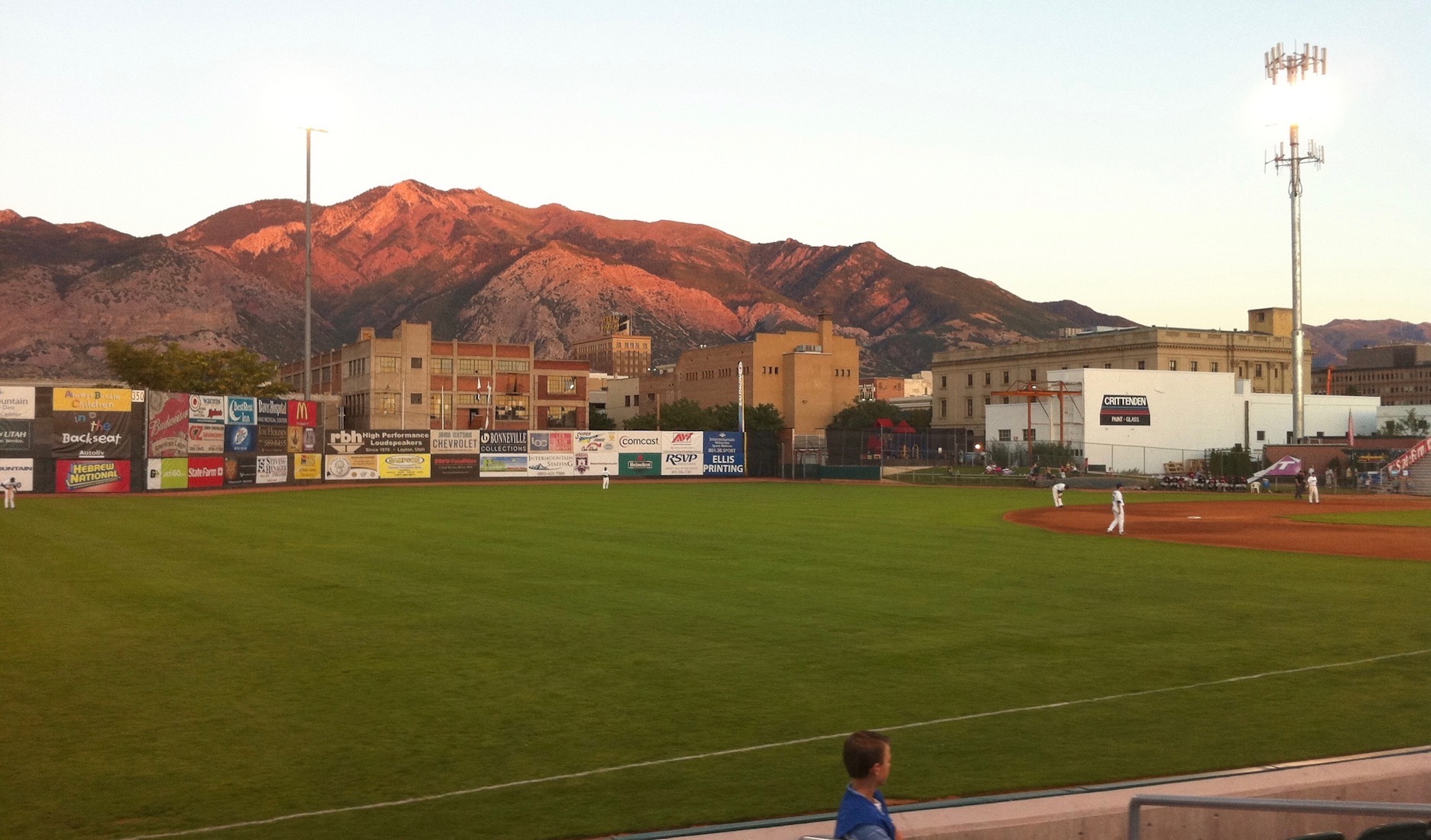 In 2003, the franchise rejoined the Dodgers' fold, albeit still as the Raptors. In 2010, visiting my parents at the end of summer, I finally paid a visit, my first minor league game in the state since 1988 or '89. My father and I took a 45-minute commuter rail ride from Salt Lake, hit up a microbrewery for a pregame beer and burger on 25th Street, the city's once-notorious drag "known for brothels, bar fights, biker gangs, gambling, opium dens, vagrancy and vacancy," baby.
Shortly upon arriving at the ballpark two blocks away, we spotted Maury Wills, then approaching his 78th birthday but still teaching the kids to bunt — just as we'd seen him do during our 1989 visit to Dodgertown in Vero Beach. We enjoyed another couple of craft beers while watching the 19- to 22-year-old kids, on whom I'd been briefed by my prospect-hound colleagues; 2009 second-round pick Garret Gould started, but the one I couldn't take my eyes off of was 2010 third-rounder Leon Landry, a center fielder later traded to Seattle for Brandon League, and fifth-rounder Jake Lemmerman, the team's shortstop, the owner of the game's lone home run, and the runner-up in the batting title race at .363. Neither wound up making it to the majors, but closer Shawn Tolleson did. Regrettably, none of the opposing Idaho Chukars could say the same, not even the wonderfully-named catcher Dale Cornstubble, though as a 40th-round 2010 pick by the Royals, the deck was stacked against him.
My history with the Pioneer League isn't a deep one, but it pains me that the entire eight-team circuit — which includes three teams in Montana, two in Colorado, and one in Idaho as well as the pair in Utah — is reportedly on the contraction chopping block. Of those states, only Utah (which would still have the Salt Lake Bees) and Colorado (which has the Rockies) will retain any professional baseball, or at least affiliated ball (color me skeptical on the so-called "Dream League" plan for undrafted players, which Minor League Baseball has called "a shell game"). For the purposes of providing relatively inexpensive access to live baseball and cultivating future generations of fans, that's virtually an entire time zone written off, particularly when coupled with MLB's asinine blackout rules, which prevent people in those states from accessing some combination of the Rockies, Mariners, and/or Diamondbacks.
Closer to my current home, nine of the short-season New York-Penn League's 14 teams are on the contraction list as well, with the Brooklyn Cyclones, the Mets' affiliate, one of the lucky ones. The league's top attendance draw, the Cyclones, play amid a landscape of roller coasters, ferris wheels, the defunct Parachute Drop, and the Coney Island boardwalk. Even with regular access to the Yankees and Mets, they're a worthwhile alternative for their kid-friendliness. My wife (Emma Span, managing editor of The Athletic MLB) and I have visited more or less annually since the start of our relationship 10 years ago, and my daughter (now 3 1/2) has enjoyed the games there, eating her first ballpark hot dog, getting lost running the bases post-game (it can happen to a toddler), and falling in love with Sandy the Seagull, the team's mascot.

The Cyclones are on secure enough footing that under the current proposal, they would join the Double-A Eastern League. Less lucky are their intracity rivals, the Staten Island Yankees. I've visited them less regularly over the past two decades, but they're no less accessible, my experiences there no less memorable. To get there, one can take a free 20-minute ferry ride from lower Manhattan through New York Harbor, then walk about a third of a mile to Richmond County Bank Ballpark, which opened in 2001 and seats 7,171. The facility itself is unremarkable, but the view over the outfield wall — the Harbor in the foreground, with a spread from New Jersey to Brooklyn on the horizon, and Manhattan's skyscrapers in center field — is damn impressive.
Three visits to Staten Island games stand out. At the first one, against Brooklyn on July 15, 2003 — the night of MLB's All-Star Game, an accident of scheduling when my girlfriend at the time purchased half a dozen seats three months in advance — an 18-year-old center fielder named Melky Cabrera stole the show by going 5-for-5, though he could only look on from third base as the potential winning run while his teammate was thrown out at the plate on a game-ending collision with the catcher. Less than two years later, Cabrera debuted in the Bronx, alternately showing off the dazzling talent and baffling lapses in common sense that have typified his 15-year major league career.
The second one was on July 17, 2013, the night after the All-Star Game at Citi Field, which I was fortunate enough to cover for SI.com. Three days and nights at the ballpark in the sweltering July heat, for the Futures Game, the Home Run Derby, and the All-Star Game itself — the last of which, with its late-night transportation challenges, had kept me up until 3 AM waiting for Emma to get home via her separate deadlines and travel — wasn't enough, so on the next night, I took up Sports Illustrated colleague Joe Lemire and visiting scribe Nick Piecoro of the Arizona Republic on their invitation to enjoy some cold brews while watching a low-stakes game between the Baby Bombers and the Batavia Muckdogs. I'd be lying if I said I remembered the details of the actual contest, though the box score and a bit of B-Ref research show that we saw future major leaguers Austin Dean, Yefri Pérez, and Chad Wallach. It's the camaraderie of that night that I'll remember.
Said it before and I'll say it again: the best & most scenic NYC baseball venue NYCFC could possibly play at is Richmond County Bank Ballpark on Staten Island, home of the Staten Island Yankees. pic.twitter.com/FGltqE9wZr

— Alexander Abnos (@AnAbnos) December 17, 2019
The most recent one was on June 19, 2016, as part of a FanGraphs Sabermetrics Day at the ballpark. I was still working at SI, as was Emma, who was seven months pregnant at the time. She had been invited to appear on one of the event's pregame panels, where she was joined by Meg Rowley (then of Baseball Prospectus) and Dan Szymborski (then of ESPN), along with Dave Cameron, Carson Cistulli, and Ben Lindbergh. It was my first time meeting either Meg or Dan; little did we imagine that we'd all be teammates within about two years. Again, the game was a backdrop for the social activities rather than the object of focus. I think the field caught our attention mainly when Eno Sarris partook in the dizzy bat race, and I remember more about Ben hawking copies of The Only Rule Is It Has to Work than I do about the players we watched (Luis Torrens is apparently the day's only player to reach the majors thus far).
Unlike the Cyclones, the Staten Island Yankees don't draw tremendously well (66,520 in 2019, fifth-worst in the league and about 62% less than Brooklyn). Nonetheless, losing them would still be a blow to the area's fans, particularly those for whom trips to Yankee Stadium or Citi Field are too exorbitant, and those who want the unique ferry-and-skyscraper-view experience. It would be a huge bummer in this household, as our daughter's first trip to the park was on the docket for this summer; the logistics of afternoon games are more flexible now that she's given up daily naps.
Parents, children, grandparents, siblings, colleagues, pals, significant others… I've experienced minor league baseball with all combinations (we haven't even talked about my uncle taking us to the Tacoma Rainiers). Years, decades, and hundreds of trips to major league parks later, those minor league games remain special and distinct in my mind, enriching every relationship with every person with whom I shared the experience. As much as those first packs of Topps cards and the nationally televised games of the week, minor league baseball cemented my fandom for life, and it's a gift that keeps giving.
By the estimate of Rowley and Ben Clemens, the contraction of 42 minor league teams will leave an additional 14 million people with no such team within 50 miles. When I think about the potential fans who will lose access to such games, it saddens me greatly. It's a shortsighted strategy for a sport that desperately needs to find inroads to younger demographics, no matter how laudable some of the goals of the proposed contraction are. A sport with nearly $11 billion in annual revenue can certainly afford to pay minor leaguers a living wage without salting the earth in the communities that are growing the next generation of fans.