Hi again. Thank you so much for the support you've shown the site over the past few weeks. In the spirit of continued transparency, I wanted to give everyone a fairly in-depth update on how things are going at FanGraphs. A few weeks ago, we had to change our business model from one primarily driven by ads to a one predominantly driven by site memberships because of the current COVID-19 pandemic, which postponed the start of the MLB season and caused a drastic decrease in both FanGraphs' traffic and general advertising rates. We set a Membership goal of 40,000 Members, which in a typical year represents less than 4% of our monthly site visitors.
First, let's look at the some of the good news, which is that Memberships are going in the right direction. Thank you to everyone who has decided to continue their Membership while baseball is on hiatus, upgraded their existing Membership, or signed up for the first time! Prior to March 30, we had 10,004 active Members; that number has increased to 14,739: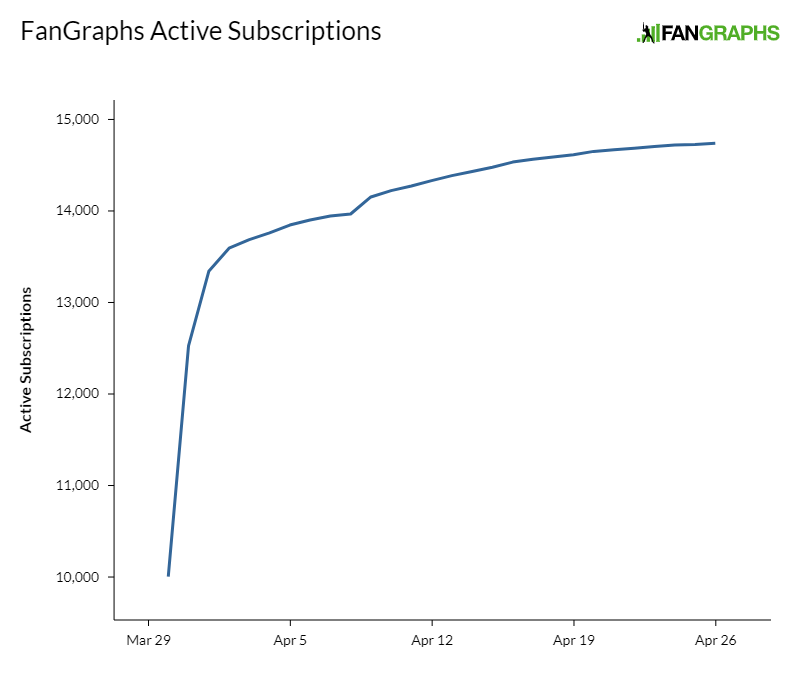 If we include merchandise sales, gift memberships, upgrades to Ad-Free, and donations (at the equivalent of the $30 annual Membership), the progress towards that 40,000-Member goal looks even better. Furthermore, our breakdown of Memberships has shifted slightly towards Ad-Free; about 5% of all Members have moved toward Ad-Free. When we include all these additional contributions, it effectively puts us at 16,244 members: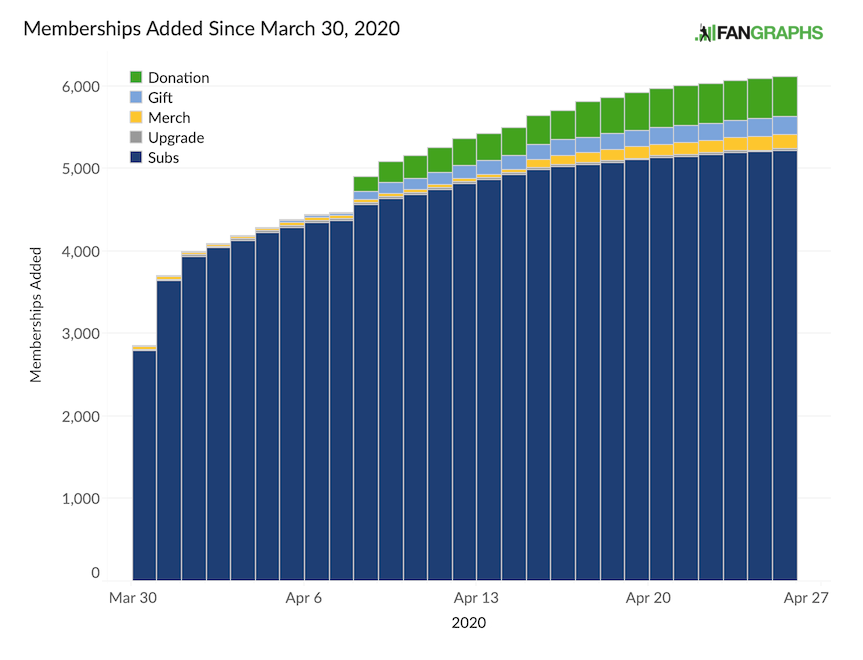 While our Membership numbers are up considerably, we are also in the midst of some understandable attrition. We've lost 612 members since March 12, which is a considerable uptick year-over-year. Obviously, many of our readers are facing difficult times, making FanGraphs Membership the least of their concerns. The reason I mention our Membership attrition is to highlight that one Membership added does not necessarily equal one Membership towards our goal. It comes out to more like 0.9 members when we factor in attrition. Depending on the number of Members added and the attrition rate, that number can be highly variable on a day-to-day basis.
…
Switching to the advertising picture, since the MLB season was postponed, our traffic and ad revenue predicament has become even clearer. As we would normally be gaining traffic as the season started, the percentage decrease in our traffic is actually increasing. Last week we were down more than 70% on a year-over-year basis.

To further exacerbate the problem, advertising rates are down by about 45% across the board. This means we are seeing a greater than 80% decrease in advertising revenue from a year ago.
If baseball does return this year, I expect we will see a strong rebound in traffic. But it is hard to count on a rebound in advertising revenue, as the impact of the COVID-19 pandemic is likely to depress advertising rates for the foreseeable future.
…
Many of you have asked about FanGraphs receiving a Paycheck Protection Program loan. Despite getting our application in the day the program opened, like many other small businesses, our application sat in limbo and the funds ran out before it could be submitted by the bank. We are now working with additional banking institutions in an attempt to get our application submitted and approved in the program's second round of funding.
…
With all that said, I'd like to reiterate that our goal is to reach 40,000 Members by next April. We are just under 24,000 Members away from the goal. That fits nicely with a 2,000 Member a month goal. To put that in perspective, we had 1.3 million unique users in April 2019; 24,000 Members is 1.8% that total.
There are numerous ways to contribute towards our Membership goal:
Become a Member
You can become a Member or an Ad-Free Member. You'll see all the same great content and have access to all the tools. Ad-Free Members enjoy the site with faster loading times and no ads. It is the best way to experience FanGraphs.
Donate to FanGraphs
We have a simple donation form you can use to donate to FanGraphs. Please note that donations to FanGraphs are not tax-deductible. For the purposes of this year's Membership goal, we will treat every $30 donated as one new Membership towards our goal.
Gift a Membership
You can send a coupon code for one year of FanGraphs Ad-Free Membership to anyone you like. The code never expires, and no credit card or other form of payment is required when the recipient signs up. Their Membership begins when they use the coupon code.
Pre-Order Merchandise
We currently have several FanGraphs branded items available for pre-order including hoodies, hats, and various t-shirts. Pre-orders will close on May 10 and ship in early June.
Once again, thank you for all your support and please keep safe!